Fancy touring or commuting without the burdens of a heavily-laden bicycle? We have the right trailer for the right job! For the active urban traveller or the globetrotting cyclist, our trailers will meet your specific demands.
Based on our own experience and from cyclists who have used trailers extensively, we uncover some of the little known facts and advantages of trailers:
•    Things can all be kept in one place, making packing easier and faster.
•    Trailers can be used to carry bulky, heavy and longer items (large quantities of water, backpacks for hiking trips or just around town with a case of beer!).
•    Can be attached to almost any frame, any bikes – your bike does not need the special braze-ons on seat stays (needed to fit luggage racks).
•    Especially useful and practical for folding bikes – no need to attach luggage rack on foldies, thus not affecting folding and packing for travelling.
•    Can easily be unhooked so you can ride around town or make sightseeing easier (especially for folding bikes).
•    Good option for tandems or group travelling where large luggage space is required.  
•    Helps minimise strains placed on your bike and by shifting weight off the bike to the trailer, Your bike will feel lighter it is thus more responsive, accelerates faster and manoeuvres better
Manufacturer:
Select manufacturer
Results 6 - 10 of 16

Trailers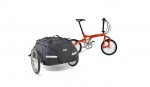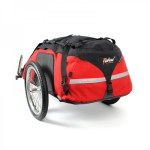 The Cyclone IV Trekking Bicycle Trailer is the fourth ...