Since April 1991, CycleAware® has been manufacturing a line of smart and simple bicycle products to keep cyclists confident and relaxed on the road. CycleAware has dedicated its focus to designing a comprehensive line of safe-to-use rearview mirrors and has become the world's premier cycling rearview mirror experts.

As more cyclists take to the roads, and as more learn of the many advantages of riding with CycleAware mirrors and day-to-night visibility products, the demand for their innovative safety products continues to increase. CycleAware products are designed to increase safety and make every ride more enjoyable, and their mirrors equip cyclists to be aware of their surroundings and enable them to play an active part in their own safety.

CycleAware, based in Pacific Grove, California, is moving forward and investing in the future to improve and expand their line of innovative safety accessories, both driving and answering the increased demand for products that enable safer cycling.
Mirrors
Check out our Eyewear Mounted Mirror and you will quickly ...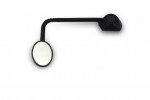 Celebrating over 15 years as the #1 selling helmet mirror, ...
Roadie is the sleek and aerodynamic bar-end mirror designed ...