Going to parks, grocery shopping, exploring our neighbourhood or bringing the little one to his child care centre – the bicycle is a great way of commuting with your kids. Ever since our kids were able to sit up unaided, they have been joining us on rides on the back of our bicycles, enjoying the world around them, while sitting safely on their child seats. It helps them appreciate that the journey itself can be equally, if not more, enjoyable and beautiful than the destination. We have benefited much from these extra bonding times and believe you would too!
Our child seats comply with European safety standard EN 14344¹ and are certified in accordance with the most stringent safety standards from TÜV/GS².

1.    EN14344 is the European standard for bike child seats.
2.    TÜV seal ensures the safety, quality and reliability of our products. GS seal addresses the concerns of the German Equipment and Product Safety Act (GPSG) and is affixed to products that have been approved as safe. The GS mark is testament that production management is being carried out consistently at the factory where the product is being made.
                                                                                                                                                                                                   
Child Seats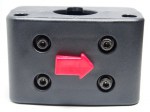 TÜV/GS & EN14344 Certified
TÜV/GS & EN14344 Certified
TÜV/GS & EN14344 Certified
TÜV/GS & EN14344 Certified
TÜV/GS & EN14344 Certified